From: Andy Stead (SADFF)
Fire Department Family Members,
I'm proud to announce that the 14th Annual Mark Paris Golf Tournament will be held at the Starr Pass Resort again this year! The Tournament will be held on Saturday, August 24th (C Shift Day) with a 9 AM shotgun start. Signup fees are $125 per golfer and $500 per team. If you are interested you are encouraged to sign up your team ASAP as we are on a first come first serve basis. Please go to the "Sign Up" page to register your team, click HERE to Sign Up or download the "Sign Up Form" at the bottom of this page and mail it to us with your payment.
The SADFF will be setting aside a block of rooms at the Starr Pass Resort for those who wish to partake in the after party following the Golf Tournament. Special room rates are available for a discounted Rate. You MUST reserve your room prior to July 28th to be eligible for the discounted rate. Click on Hotel Rooms to make your reservation
The 2019 Prize/Gun Raffle basics: Tickets will be available to purchase online and at Sportsman's Warehouse on participating dates. You can view pictures of this years prizes on our Gallery page. You will be able to purchase tickets for $25 or 5 tickets for $100. Selected TFD personnel will also have tickets and be selling them prior to the tournament.
Golf Tournament Prizes
Sportsman's Warehouse Ticket sale Dates
March: 23rd, 24th APril: 13th, 14th May: 4th, 5th, 19th june: 2nd, 22nd, 23rd, 29th, 30th july: 13th, 14th, 21st, 27th, 28th AUGUST: 3RD, 4TH, 16th
Come on down to check out the weapons in person and take advantage of some of the great deals that Sportsman's Warehouse has to offer. Sponsorships of all kinds are available on the Sponsorship link at the top of the page. Choose your level of involvement and help the SADFF make a difference. You or your station can sponsor a hole with a sign placed on the tee box of your choice for $100. Individuals can also make donations to the SADFF and Mark Paris Tournament. You may also print a copy of our "Sponsorship Form" located at the bottom of this page and mail it to us with your payment.
For those individuals who do not wish to participate in the golf portion of our event we have established a Banquet Only option. Go to the Sign Up link at the top of the page to reserve your spot. For $50 you can come have dinner with us and take part in the extravagant Prize Raffle. There are special prizes, raffles and auctions available for those individuals who attend the Banquet. You must reserve your spot at the banquet and be present for special prizes at the Grand Prize Raffle!!
The Grand Prize Raffle will include our Annual "GOLDEN TICKET" Water Bottle Auction. You must be present at the banquet to participate in the Golden Ticket Auction.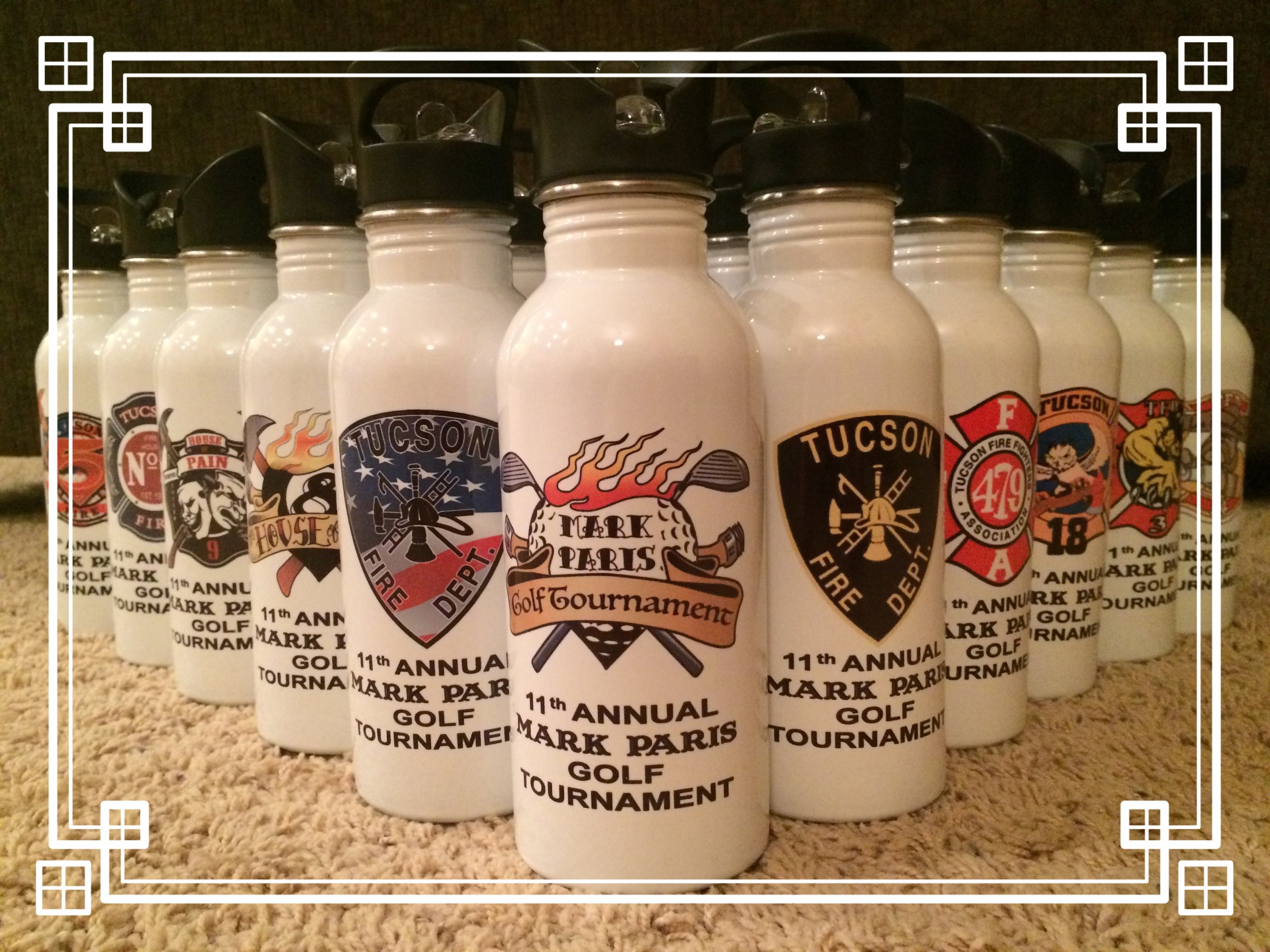 GOLDEN TICKET Water Bottle Auction
-All Bottles have 10 Gun Raffle Tickets inside.
-Bottles are paired with other great prizes and can be purchased after the Golf Tournament.
-One of the bottles has a GOLDEN TICKET inside!
-The person who finds the Golden Ticket can exchange it for a FREE GUN!
-The Water Bottles can only be purchased on August 24th at the banquet following the Golf Tournament.
GOOD LUCK!
We are also in need of volunteers to come out and help on the day of the tournament as well as selling tickets and other activities. The SADFF is also looking for businesses to sponsor our charity as well. If you know a local business who would like to be involved with this event please email us their contact information. Thank you for all your support and we look forward to seeing you on the golf course this year.
Questions?? Please contact us and we can answer them.
Andy Stead: 520-403-8842 adstead129@gmail.com
Click here to download Signup form